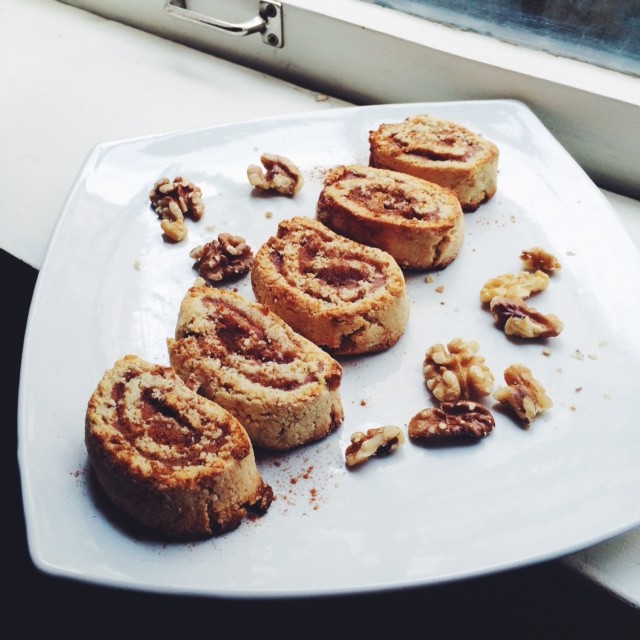 I love to bake. Changing my diet to eating vegan hasn't stopped me. There are so many good vegan recipes out there! I just want to try them all out! If only I could travel to vegan restaurants all over the world and be a food critic and write reviews… For now I'll be rating my own recipes. This recipe is mildly flavored, not very sweet, but the gooey filling and soft buns taste how cinnamon buns should.
If you want them to be a bit sweeter I would add about 2 more dates and 1 teaspoon more of honey or maple syrup to this recipe. These are also gluten-free and vegan (depending on how strict you are about using honey). If you prefer not to use honey, then replace with maple syrup.
***The filling for this recipe seems to be able to make enough for 2 servings, so you can double the bun ingredients, and split dough in half, to make more cinnamon buns! Can't complain about that!
Yields: About 7 (1 in.) buns 
Ingredients:
Bun:
1  1/2 cups almond meal
1/2 teaspoon baking powder
1/4 cup mashed banana
1/8 cup coconut oil (melted)
1 Tablespoon maple syrup
pinch of salt
Filling:
1/2 cup of loosely pack medjool dates (4 averaged sized ones) If they are hard soak in boiling water until soft.
1/2 cup coconut milk
1/4 cup walnuts, lightly crushed
1/2 teaspoon honey (or maple syrup)
1 Tablespoon cinnamon
Preheat oven to 375'F.
In a bowl mix the bun ingredients until well combined. (I did this by hand, it's much easier). Place dough in the refrigerator for 10-15 minutes.
While you are waiting..In a food processor or blender combine dates and coconut milk together until a nice carmel paste has formed. Remove from blender/food processor and mix in honey and cinnamon.
Spread a bit of almond flour before rolling the dough out. Put some onto of the dough and on the rolling pin, because the dough can get a bit sticky. (I rolled my dough out on wax paper). Roll dough out into a rectangle, about 10 in. long by 6 in. wide. Make sure the dough is not too thin and not too thick. Spread the filling mixture over dough, and roll carefully. Cut buns 1 in. apart and place in a lightly greased (with coconut oil) baking dish.
Cook for about 30-40 minutes until golden brown. Enjoy!